Trips
Suggested tours from tourist maps for leisure time,
I. Žitný ostrov – Horný, Mikroregión Pridunajsko, ( SK, EN),
II. Žitný ostrov – Stredný, Dunajská Streda and surroundings,( SJ, AJ, MJ ) from publisher R.G.T. PRESS, s.r.o. Banská Bystrica, www.rgtpress.sk
You can buy tourist maps directly in the pension.
Single day trips
Bratislava
(Veľká Paka – Bratislava 28 km)
The capital of the Slovak Republic – the most precious historical sites are located in urban conservation area. Numerous museums, galleries, concert halls, theatres – Cultural Center. The most remarkable places: Bratislava Castle (National Historic Landmark), St. Martin's Church (national monument) , Franciscan Church, Primate's and Grassalkovich's Palace, Town Hall, St. Michael's Tower, Slovak National Theatre, Academia Istropolitana, … There are lot of sports facilities, swimming pools and options for recreational activities. You can also visit the ZOO. For further information, please visit: Bratislavské kultúrne a informačné stredisko, tel.: +421/(0)2/16 186, e-mail: bkis@bkis.sk, info@bkis.sk,
www.bkis.sk
.
Vienna
(Veľká Paka – Vienna 90 km)
The capital of Austria. Dominant structure of Vienna is the gothic St. Stephen's Cathedral located in the historic center. Other tourist attractions are: Baroque church Karlkirche, former winter residence of the royal family Hofburg Palace (now the seat of the President), Upper and Lower Belvedere, Schönbrunn castle, Kunsthistorisches Museum (Museum of Art History), Vienna State Opera, Parliament, Burgtheater – Castle Theatre. Popular places include the Museum of clocks and the Museum of hackney carriages or the theme park Prater with huge wheels. Vienna has plenty to offer also to classical music fans of artists such as Haydn, Mozart, Strauss, Beethoven, Schubert and many others. The Vienna Opera and the Vienna Philharmonic Orchestra are known around the whole world. Information: Wien Hotels & Info, A – 1025 Wien, Austria, tel.: +43/1/255 55, e-mail: info@wien.info,
www.wien.info
.
Dunajská Streda
(Veľká Paka – Dunajská Streda 20 km)
District city Dunajská Streda (25 500 inhabitants) is considered the heart of region Žitný ostrov, not only for its location, but also for the beauty, dynamism, quality services and friendly population… The historical monuments of this spa town include mainly Gothic Roman Catholic Church from 14-th century and the Evangelical Church form 19-th century. Art lovers can visit the newly opened Gallery of contemporary Hungarian artists in Slovakia, which is located in a historic building from the late 19-th century in a museum. Permanent ethnographic and archaeological exhibition is located in the Yellow mansion – originally a baroque building from the 18-th century.
Sports activities you can enjoy: thermal pool with 7 swimming pools, indoor swimming pool, sports hall, sports stadium and artificial ice rink. There are many restaurants, cafes, pastry shops, pubs and daily bars in the city. The city is also well known for a long tradition of using healing effects of thermal water. Re-built thermal resort will satisfy even the most demanding visitors. We look forward to meeting you. WELCOME! More information:
www.dunstreda.sk
, e-mail: msu@dunstreda.sk.
Hydroelectric project in Gabčíkovo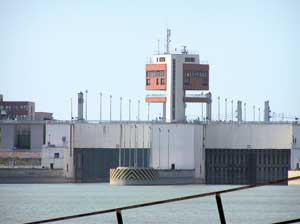 (Veľká Paka – hydroelectric project in Gabčíkovo 34 km)
Visit the dam complex and power station with 2 locks and enjoy an interesting 3-hour boat trip through Gabčíkovo with transition lock. Fauna and flora around Danube includes many law-protected birds and provides an enjoyable experience. There is also a possibility for fishing. Marked hiking trails (see also Chapter Tourist attractions, experiences on the water, hiking). Information:
www.svp.sk
,
Tel.: +421/(0)31/554 619, 559 44 51.
Győr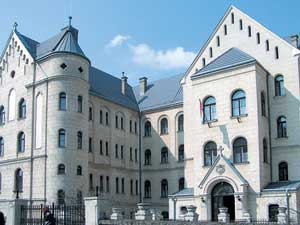 (Veľká Paka – Győr 56 km)
It is just around 50 km from the Dunajská Streda. In the historic center there are e.g. Basilica Minor from 11-th century, Bishop's Castle and the Castle from 14-th century with permanent exhibition depicting the life of Bishop Vilmos Apora. Eszterházy house with gallery, János Xantus Museum – Historical and Ethnographic Museum, Benedictine church of st. Ignatius from 17-th century, church treasury and library, etc. The city part called Sziget (Island) hosts various international cultural events, e.g. Mediawave festival. Pannohalma – first religious institution in Hungary from 10-th century and Hungarian Benedictine Abbey, which was declared a World Heritage Site are located less than 20 km from Győr. There is also a library with a first deed of from year 1090 in the abbey. An arboretum with 400 plant species can be found there as well. Part of the abbey can be visited with a local guide. Information (Győr): Árpád u. 32, 9021 Győr, Hungary, tel.: +36/96/336 817, fax: +36/96/311 771, e-mail: gyor@tourinform.hu. Information (Pannonhalma): tel.: +36/96/470 021; Pax Tourist, Vár u. 1, 9090 Pannonhalma, Hungary, tel.: +36/96/570 191, fax: +36/96/570 192.
Šamorín
(Veľká Paka – Šamorín 8 km)
Calvinist Reformed Church of the 13th century with murals and frescoes (the most beautiful Gothic church of region Žitný ostrov), church of the Assumption, evangelical church, Romanesque church, synagogue, history museum, riding area. There is a summer resort area on the Danube in Čilistov. Information:
www.samorin.sk
Senec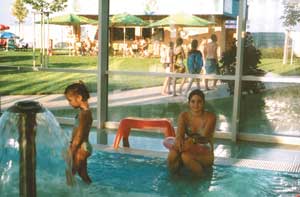 (Veľká Paka – Senec 26 km)
Places of interest include historical monuments like church of st. Nicholas, pillory ("Pillar of Shame") from 16-th century, evangelical church, synagogue, Turkish house. Senec is a popular destination for summer recreation – Sun Lakes – comprehensively equipped area, water slides, rentals, sports. Information: TIK, Mierové nám. 19, Senec,
tel.: + 421- 2 / 45 92 82 24,
www.senec.sk
.
Pezinok
(Veľká Paka – Pezinok 51 km)
Historical sights are mainly chateau with a park, a Gothic church with valuable interior, town houses and wine-growing, wine museum. Nowadays a wine-making region with stylish wine bars. Information:
www.pezinok.sk