Dining
Guesthouse by the pond offers various specialties prepared mainly from freshwater fish (catfish, perch, carp, trout, …) and game.
Fresh fish means that the fish was caught and cooled only before cooking. Our fish are kept in ponds, where they have a steady supply of clean drinking water and thus they are completely cleared from various odors. This cleaning process ensures that in our kitchen, we get fish of the best quality only. Our kitchen also offers specialities prepared from chicken, pork and beef meat, vegetable dishes and salads. The menu also includes a variety of soups (fish, meat and other), venison stew and sauerkraut soup with different kinds of meat (mutton, pork, …). Our popular speciality is a tasty roasted pig prepared in our own outdoor furnace.
Capacity of the restaurant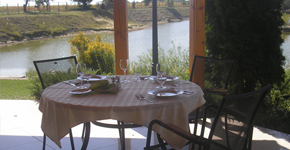 Restaurant rooms are divided into several parts:
| | |
| --- | --- |
| Restaurant part | - capacity 70 – 100 seats |
| Coffee bar | - capacity 10 seats, various types of coffee and tea |
| Hunter's lounge | - capacity 18 seats |
| Covered terrace | - capacity 60 seats |
| Day / night bar | - We offer various alcoholic and non-alcoholic drinks, mixed drinks, snacks |
Please see Opening hours of the restaurant.